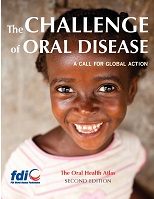 Oral health is a facet of general health which is often overlooked, the oral sphere being too often considered by other health professionals as a "separate" part of health, reserved only to dentists"
In order to raise awareness among public health experts and health professional, the FDI World Dental Federation released  its second World Atlas of Oral Health in 2015. This atlas highlights the extent of oral diseases worldwide and looks into possible policies and strategies that could be implemented to alleviate this problem. It presents an overview of key facts and figures related to oral health – impact, direct and indirect costs of diseases such as caries, periodontal, cancer of the mouth;  main risk factors; inequalities in oral health; prevention; challenges ahead.
It is with great pleasure that I participated in this ambitious project as an Associate editor.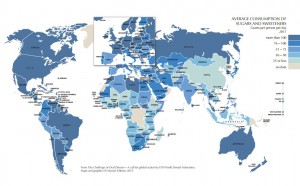 Source: The Challenge of Oral Disease – A call for global action by FDI World Dental Federation. Maps and graphics © Myriad Editions 2015.